Acorn spicy cheese sticks
This time I share with you a recipe from a few years ago. The reason I decided on this recipe is the real winter weather with snow in early April. We need something to warm up.


Here are Acorn spicy cheese sticks.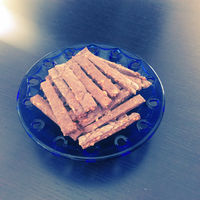 Ingredients we need for Acorn spicy cheese sticks:
2/3 cup flour,
1/3 cup

acorn flour

,

a little fresh chili, finely chopped (instead of fresh chili you can use cayenne pepper),
salt,
ground cumin,
2/3 cups of grated cheese,
3 or 4 tablespoons of softened butter,
1 teaspoon of mustard,
1 egg,
5 or 6 tablespoons of cold water,
a few drops of olive oil.
Preparation:
Flour, acorn flour, salt, a little chopped chili, cumin, and grated cheese put in a bowl. Add the softened butter and rub it into the mentioned ingredients with your hands. Add the egg mixed with the mustard. Finally, add 5 or 6 tablespoons of cold water. knead the dough well. Oil the dough with a few drops of olive oil, cover, and place in the fridge for one hour. When the dough is taken out of the fridge, roll it out on a slightly floured surface to a thickness of 3-5 millimeters. Cut out the sticks with a pizza knife and place them on baking paper.
Bake in a preheated oven at 200 ° C for about 7 to 10 minutes. When they are baked, let them cool.
We can offer them on their own or with different spreads.
Have a nice day.
Irena
P.S. Thank you for reading 💜 If you liked the content and if you find it valuable, share it via social media.