More than five 5️⃣ years ago, I baked my first bread with acorn flour.
Look at the photo 👇👇.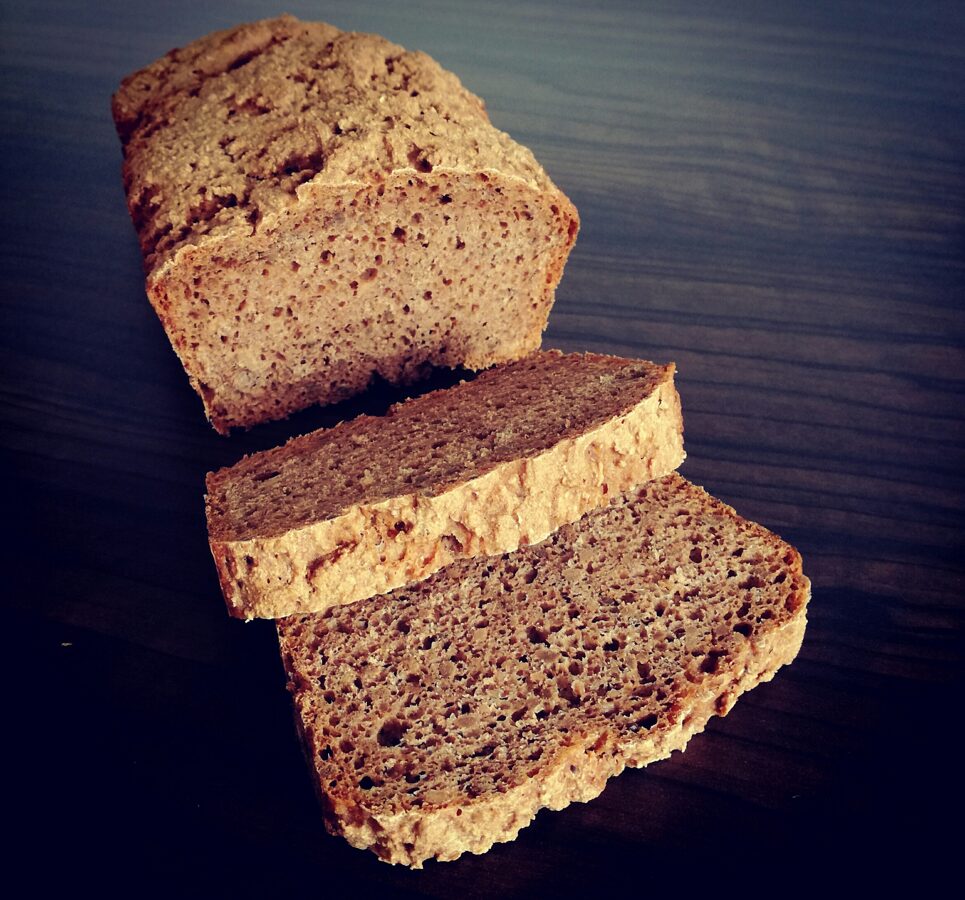 I have been using the recipe for bread with acorn flour ever since, with some adjustments.

These are:
instead of 5-grain flour, I use classic wheat flour,

instead of homemade acorn flour, I use the same one that I sell, available HERE,

and I use a smaller proportion of acorn flour because my children are not fans of "dark or black" bread.
Recipe for Bread with Acorn Flour
.
1. Ingredients:

200 g flour of 5 grains wheat, spelled, rye, barley, durum wheat in different proportions (if desired, use regular all-purpose flour),
100 g of acorn flour (prepared at home),
1.2 dag of yeast,
approx. 2 dcl of water,
little sugar
spoon of olive oil.
2. Preparation:
First, prepare the yeast. Crush the yeast in a bowl, and add a little lukewarm water, a pinch of sugar, and a spoonful of flour. Let it rise in a warm place.

Sift the flour into a bowl, and make a well in the middle around which add salt.

Pour the risen yeast into the well. Mix a little flour with a food processor and slowly pour in the lukewarm water, gradually incorporating the surrounding flour. If desired, add a spoonful of olive oil.

When all the liquid has been combined with the flour, it is necessary to knead the dough with your hands for at least 10 minutes.

When the dough is kneaded (in my case it was not as smooth and flexible as bread made from wheat flour), put it back in the bowl, cover it with a tea towel, and put it in a warm place.

We wait for it to rise. Make sure that the dough has risen enough by pressing on it with your finger - if there is a visible indentation, the dough has risen enough.

Mix it well again for approx. 3 min. Then the dough is placed in the mold (if desired, you can also cover the mold with baking paper). The dough should rise again. Heat the oven to 180°C.

When the dough increases its volume a second time, it is ready for baking. Brush it with lukewarm water and put it in the oven. Bake approx. 40 min. A general rule of the first 15 min. we don't open the oven at all, because it rises the most at this time. If we want a crispy crust, bake it for 10 min. before the end, anoint with water once more.
When the bread is baked, take it out of the mold (if you used baking paper, peel it off).
Wait for it to cool down.
Have a nice day 😉.

Irena
P.S. Thank you for reading 💜 If you liked the content and if you find it valuable, share it via social media.